Ahhh...the Christmas Season! It brings to one's mind visions of sugarplum fairies, fresh snow, the twinkling of lights...and Santa chasing folks with a bloody axe!!! What, this isn't YOUR idea of Christmas? Well, perhaps it should be!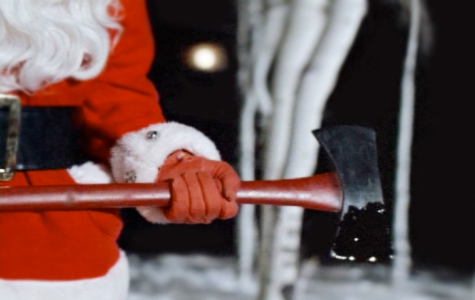 A few years back I decided to watch a film that I had always heard was a classic of the horror genre,
Black Christmas
. This flick is often cited as a "proto-slasher", with some even proclaiming it to be the first of the sub-genre. John Carpenter and Debra Hill both cited it as a huge influence on them when they were formulating
Halloween
, and it continually cropped up on horror fan's websites as a "must see". While I'll save my review for another blog, I will agree that it was a true classic, on par with Hitchcock's
Psycho
. This, in turn, reminded me of another Christmas themed horror film I'd seen previews for as a kid,
Silent Night, Deadly Night
. In the process of searching for information about this flick, I discovered a whole little sub-genre-within-a-subgenre: The Christmas Slasher. In fact, I would go so far as to say there is just as many tales of terror for the Yule Season as there is for Halloween (in fact, it's entirely possible there are MORE).
Here is a list of those films I discovered. I don't claim for this to be all-inclusive, by any means. I'm sure there are plenty of Holiday Horror flicks I've yet to stumble across:
Black Christmas
[aka:
Silent Night, Evil Night
,
Stranger in the House
] (1974)
Silent Night, Bloody Night
(1974)
Christmas Evil
[aka:
You Better Watch Out
,
Terror in Toyland
] (1980)
Silent Night, Deadly Night
[aka:
Slay Ride
] (1984)
Don't Open Till Christmas
(1984)
The Thirteenth Day of Christmas
(1985)
Silent Night, Deadly Night Part 2
(1987)
Elves
(1989)
Silent Night, Deadly Night 3: Better Watch Out!
(1989)
Silent Night, Deadly Night 4: Initiation
(1990)
Silent Night, Deadly Night 5: The Toy Maker
(1991)
Satan Claus
(1996)
Santa Claws
(1996)
Jack Frost
(1997)
Feeders 2: Slay Bells
(1998)
Jack Frost 2: Revenge of the Mutant Killer Snowman
(2000)
Nutcracker
(2001)
The Christmas Season Massacre
(2001)
Christmas Nightmare
(2001)
One Hell of a Christmas
(2002)
Santa's Slay
(2005)
Films to Keep You Awake: The Christmas Tale
(2005)
The Gingerdead Man
(2005)
Two Front Teeth
(2006)
12-24
(2008)
Gingerdead Man 2: Passion of the Crust
(2008)
Silent Night, Zombie Night
(2009)
Deadly Little Christmas
(2009)
Bikini Bloodbath Christmas
(Video 2009)
Saint
(2010)
Rare Exports: A Christmas Tale
(2010)
Gingerdead Man 3: Saturday Night Cleaver
(2011)
That's a helluva lot of Christmas Fear! I've only seen a small portion of these, but I'm extremely intrigued by the idea of it. What is it about Christmas that lends itself to horror films? Is this a backlash against the over-hyped holiday commercialism? Perhaps it's an expression of disgust at the way Christmas seems to be eclipsing Halloween & Thanksgiving by showing up in stores a bit earlier every year? Are we looking at a way of folks dealing with all the angst and tension that Christmas seems to bring with it? Do these films simply exist as a counter-balance to all the syrupy "feel good" movies that are shown ad-nauseum around this time of year? I don't know the answer, but I'm fairly fascinated!
In the days to come, I plan to take a closer look at a few of these movies. So, pour a cup of wassail, cut a piece of pumpkin pie, and join me for the fearful festivities! Oh, and pray that Santa doesn't have you on his naughty list!